Program Info
Program Started
01-Aug-2017 (2,012 days)
Joined
01-Aug-2017 (2,012 days)
Listed
09-Oct-2017 (1,943 days)
Payment Processors Accepted
Summary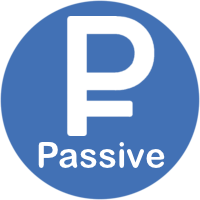 Passive Coin is a small crypto-currency born in September, 2017. We issued limited quantity of 500,000 coins based on Ethereum network.
In order to boost the long-term value of Passive Coin, we will passively maintain Backing Fund (reserves fund), composed of some top crypto-currencies and promising coins, tokens and digital assets.
Please feel free to visit our website for more details.
Passive Coin is listed on Stocks.exchange crypto-exchange:
- PAS - BTC trading pair:

Please also visit our website for more news and details:
Financial Data
Total Investment: $0.00
Total Cashout: $0.00
ROI: N/A
Passive-Earner Stats
Member since

25-Dec-2014

Referrals

71

Earnings

$157.19976

Withdrawals

$0.00